EAGE has two divisions within the association, the Oil and Gas Geoscience Division (OGGD) and the Near Surface Geoscience Division (NSGD). These divisions reflect the interests of our members and have dedicated publications, meetings and educational offerings. Both entities are led by a committee overseeing the further development of the divisions, its activities and cooperation between the two entities. Both divisions are also represented in the EAGE Board. The current chairpersons are: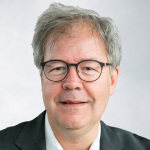 Michael Peter Suess
Chair Oil and Gas Geoscience Division
Alireza Malehmir
Chair Near Surface
Geoscience Division
OIL AND GAS GEOSCIENCE DIVISION
The purpose of the Oil and Gas Geoscience Division (OGGD) is to represent and promote the interests of its members and to ensure that each of the Oil and Gas geoscience disciplines of geophysics, geology and reservoir engineering is adequately represented within the EAGE and its functional committees. The above is achieved by:
Developing communication with members to better define their needs and identify new ideas and developments
Submitting recommendations to the Board for approval to be implemented by specific committees and for appointing Editors-in-Chief of Petroleum Geoscience and Geophysical Prospecting Journals.
Specific responsibilities:
Hold Technical Division meetings at least at the Annual EAGE conference and in September and February of each year
Assist with the staffing of the permanent committees
Nominate for Board approval a Technical Programme Assistant for each of the geophysics, geology and engineering and multi-disciplinary studies
Assist the Technical Programme Assistant with suggestions for workshops, special sessions, chairpersons and referees for the Annual EAGE, Near Surface Geophysics and other conferences
Receive reports from the Technical Programme Assistant and editors at Technical Division Meetings
Receive via the division chairman notices, agendas and minutes of permanent committee meetings and provide additional input as appropriate.
The current members of the divisional committee are: 
Michael Peter Suess (Chair; TPC)
Caroline Lowrey (Immediate Past Chair; TPC)
Lucy Slater (Vice-Chair)
Juliane Heiland (TPC)
Francesco Perrone (YP Liaison)
Aart-Jan van Wijngaarden (Technical Programme Officer)
Martin Widmaier (TPC)
Philip Ringrose (Editor-in-chief  Petroleum Geoscience)
Tijmen-Jan Moser (Editor-in-chief Geophysical Prospecting)
Conor Ryan (REvC Liaison)
Wiebke Athmer (Committee Member)
Erica Angerer (Committee Member)
Divisional journals: Geophysical Prospecting & Petroleum Geoscience
NEAR SURFACE GEOSCIENCE DIVISION
The Near Surface Geoscience Division (NSGD) represents the interests of its members who work in all areas of geoscience applied to investigation of the shallow subsurface. Such areas include, but are not limited to, geophysics, geotechnics, engineering geology, mining, geothermal investigation, environment, hydrogeology, archaeology, forensics and soil science. It provides a forum for discussing and improving the application of geoscientific methods to the above-mentioned topics. The Division publishes its own journal, Near Surface Geophysics, and organises an annual technical meeting, Near Surface Geoscience, normally held in September. It contributes to the EAGE flagship journal First Break and collaborates with other societies in organising joint technical meetings. The aims of the NSGD are:
To foster and encourage the application of geoscience techniques for all near-surface applications;
To foster education and research in these areas;
To provide a means for communication between geophysicists and those who use geoscientific data;
To provide, through meetings, workshops, short courses and seminars, a forum for the exchange of technical information;
To actively represent the membership in all state and national initiatives that propose regulation or registration of near surface geoscientists, and to keep the membership informed on these issues;
To work closely with other societies for the furthering of geoscience as applied to matters outside deep exploration.
The NSGD committee members sit as representatives of various local professional groupings. EAGE members are welcome to contact them by e-mail to make suggestions for the development of the Division. The current members of the divisional committee are:
Alireza Malehmir (Chair)
Esther Bloem (Vice-Chair)
George Apostolopoulos (immediate past Chair)
Micki Allen (Contact Officer EEGS/North America)
Deyan Draganov (Technical Programme Officer)
Hongzhu Cai (Liaison China)
Albert Casas (Membership Officer)
Eric Cauquil (Liaison Shallow Marine Geophysics)
Hamdan Ali Hamdan (Liaison Middle East)
Vladimir Ignatev (Liaison Russia / CIS)
Andreas Kathage (Liaison Officer "First Break")
Musa Manzi (Liaison Africa)
Myrto Papadopoulou (Young Professional Liaison)
Koya Suto (Liaison Asia Pacific)
Catherine Truffert (Industry Liaison)
Panagiotis Tsourlos (Editor in Chief "Near Surface Geophysics")
Florina Tuluca (Committee member)
Divisional journal: Near Surface Geophysics