The EAGE WGE community is the network of members with the mission of growing a collaborative network across genders, ages and specializations, and supporting equity in the fields of geoscience and engineering. Motivational advice and mentoring, sharing career opportunities and discussing the challenges of women's retention in the industry have been at the heart of the WGE activities since the start. Over time, the conversation has greatly expanded, touching upon issues such as diversity, inclusion and – more recently – work/life balance (especially in times of lockdown), dual careers and leadership.
The community is open to all, regardless of gender.
Are you interested in being part of the Women in Geoscience & Engineering Community? Update your Affiliations now!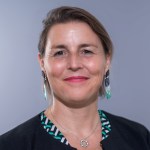 WGE Activities
WGE Committee
The WGE community is coordinated by a Committee that serves for a period of two years. The current Committee is serving the 2021 – 2023 term.
| Name | Affiliation | Country |
| --- | --- | --- |
| Adeline Parent | Schlumberger | Germany |
| Aicha Bounaim | Schlumberger | Norway |
| Anna Lim | Argeo | Norway |
| Chukwunonso Ikiliagwu | Shell | Nigeria |
| Marta Cyz | Geological Survey of Finland | Finland |
| Nawal de Freslon | Beicip-Franlab | France |
Questions? Ideas?