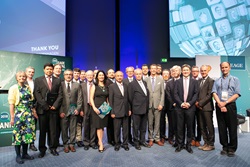 EAGE has a growing global presence in geoscience and engineering and would like its Awards to reflect the breadth and scope of the Association. We therefore encourage members from all over the world to nominate candidates. By submitting a nomination, you can help to recognize and promote technical and professional achievement from within the membership and throughout the world.
The nomination window for the 2024 EAGE Awards are open until 31 October 2023. You can e-mail your nomination package to awards@eage.org
The nomination package consists of three requirements:
1) The nominee's CV and list of publications (if appropriate);
2) A nominating letter that summarises the individual's achievements and details why they deserve the Award you propose. It is particularly important to describe how the candidate's work has made a significant difference to society, to the Association, or to science;
3) At least one letter of support from technically qualified people who know the nominee and their work. Although the minimum is one support letter, nominators are encouraged to include a variety of support letters to illustrate the nominee's strengths. However, awards are not decided by the number of support letters.
Please download and read the Awards nomination guidelines before to submit the nomination.
Conditions:
Most Awards are limited to one candidate. The Honorary Membership and, in exceptional circumstances, the Conrad Schlumberger Award and the Arie van Weelden Award, may be offered to a maximum of two candidates.
The award selection process is carried out by the EAGE Awards Committee on a confidential basis, with final approval of all recommendations by the EAGE Board. It is crucial that your candidate should not be aware that he or she has been nominated.
Only EAGE members are eligible for Honorary Memberships, Conrad Schlumberger, Alfred Wegener or Arie van Weelden Awards.
The winners of the EAGE Awards are announced annually during the EAGE Annual Conference. This will take place on 10-13 June 2024 in Oslo, Norway.