How does it work?
Each year the Geo Quiz is held in several regions (Africa, Americas, Asia Pacific, Europe, Middle East, Russia/CIS). The winning teams of these regional competitions receive fee waivers to attend the EAGE Conference & Exhibition with the opportunity to participate in the EAGE Global Geo Quiz.   
EAGE is a truly multidisciplinary association and this is emphasized in the EAGE Geo Quiz as well. The quiz consists of several rounds with questions related to different fields in the geoscience industry. Petroleum geoscience, geology, geophysics, petrophysics and drilling are just a few of the fields that students may have to deal with during the competition. The level of the questions differs and will get more difficult along the way. The best way to compete in this quiz is with a multidisciplinary team of students.
Every team consist of 2-3 students

Every team will receive one remote control

Once a team has pressed 'a', 'b', 'c', or 'd' the answer cannot be changed anymore

The questions will be shown on a screen

Teams will answer the questions under time pressure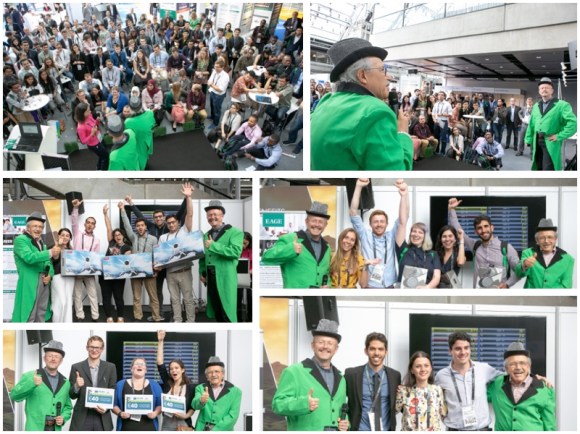 Participation & prizes
In addition to bragging rights, a great prize awaits the winning team as they will receive full registration fee waivers to the EAGE 83nd Conference & Exhibition, held from 6- 9 June in Madrid, Spain. Here, the team will participate in the Online EAGE Global Geo Quiz and compete against students from all over the world.