Energy transition technologies have demonstrated remarkable degrees of maturity and a great potential to change the energy mix. All sustainable scenarios to meet the climate targets point towards a combination of these technologies and of different energy sources to feed the energy demand in a net-zero emission future.
This context will be addressed at the second edition of the Geoscience & Engineering in Energy Transition conference (GET2021), taking place on 23-25 November 2021 in Strasbourg, France and online.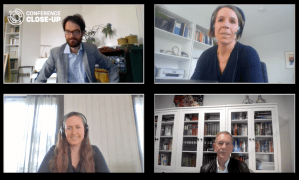 Curious to learn what the conference has to offer? We gathered the three co-chairs of the event, Esther Bloem, Karin de Borst and Giovanni Sosio, in an exclusive interview to talk about the future of geoscience and engineering in the energy transition movement.
The Call for Abstracts for GET2021 is still open to submissions. If you'd like to be a part of the Technical Programme, make sure to submit an abstract before 1 June!